Morrisons Lodge is our preferred lodging location in our area for convenient orientation and launching of your trip.
The other wilderness lodges in the Wild and Scenic corridor are privately owned and operated, open seasonally from May to November. They operate with a unique challenge ~ All equipment and food has been rafted, jet boated, or 4-wheel driven in. They are clean and comfortable, quirky, and food is plentiful and hearty. Each room has a bathroom with flush toilets, hot showers, and 2 beds (usually singles). All linens, towels and bedding will be provided at the lodge. Shampoo is not provided, but soap is. As with the funky nature of the lodges, the towels are a little rough and the sheets a little scratchy, but overall they provide a clean comfortable stay. Some lodges offer gift shop items. Consider bringing some cash if you would like to make a purchase. All the lodges are on generators and will provide light and charging opportunities during your stay. At 10pm the generators are turned off (except for Marial Lodge), so bring a flashlight to find the bathroom. Do not bring hair appliances as they will cause the generator to stop. If you are in need of bringing a CPAP for Sleep Apnea- bring a battery pack. Again, there is no power available at night in most locations.
LODGES IN AND AROUND THE WILD & SCENIC
Location – 8500 Galice Road, Merlin, located just over ten miles upriver from Grave Creek, by Taylor Creek.
Morrisons Rogue River Lodge features the main historic log lodge with pool, individual river view cabins, creek-side housing, and house in the trees. The on-site restaurant offers meals from a country-style breakfast to an all-inclusive four-course dinner, to be enjoyed while overlooking the Rogue River.
Location – Nine miles from Grave Creek Bridge, and three hundred yards downriver from Lower Black Bar Falls. The lodge is only accessible by the river and trail.
Black Bar Lodge is the first lodge in the Wild and Scenic section of the Rogue River. Owned by John and Vanessa James, Black Bar features log cabins and a beautiful setting in the middle of the wilderness. With the capacity to hold up to 30 guests, a night at Black Bar is a welcome stop for many river users. Morrisons Rogue Wilderness uses Black Bar lodge as our first night on lodge supported hiking, rafting, and fishing trips. Generators turn off at 10:00 pm.
Location – Twenty-three miles from Grave Creek Bridge, and three miles upriver from Blossom Bar.
Marial Lodge is the second lodge in the Rogue River Canyon. Marial Lodge is located at river mile 24 and is a popular stopping point above Mule Creek Canyon. Owned by Pat and Lori Cameron, Marial Lodge offers great hospitality and wonderful home-cooked meals. The Cameron's have the reputation of welcoming you into their family for the evening, and truly showing you what Rogue River hospitality is all about. Marial Lodge is the only lodge in the canyon that the generator stays on all night.
Location – Twenty-six miles from Grave Creek Bridge, right below the infamous Blossom Bar rapid, and 52 miles upriver from Gold Beach. The lodge is only accessible by the river, trail, or helicopter.
Paradise Lodge is the third Rogue River lodge in the Rogue Canyon. It is the largest lodge in the canyon, with two rooms and sixteen cabins, offering a beautiful setting. Steep canyon walls and a ranch-like setting make Paradise a favorite with all guests. Rich in history and comfortable rooms, Paradise will leave you wanting to come back for years to come. Generators turn off at 10:00 pm.
Location – Twenty-six miles downriver from Grave Creek Bridge, and about ten river-miles upriver from Foster Bar. The lodge is accessible by the river, trail, or air. Pilots need to consult the lodge prior to landing.
The jewel of the Rogue River Canyon, Half Moon Bar Lodge is owned and operated by brothers Mike and Ben Ross, they have finished recent renovations on this historic property and offer an intimate lodge experience for small groups and individuals. The property is surrounded by the river on 3 sides with great fishing, easy (and difficult) hikes, trails, swimming holes, and historic sites. Half Moon Bar Lodge offers luxurious cabins and lodge rooms with all new pillowtop beds, stunning handmade furniture, and endless hot water showers. Towels are soft and fluffy, really nice shampoo and soap are provided. Meals are prepared by the Chef, served family-style with homegrown salads and vegetables from our wilderness garden. Mostly powered by solar, electricity, and wifi is provided 24 hours a day, all rooms are CPAP ready.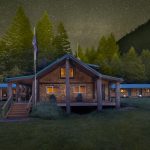 Location – Lucas lodge is located in Agness, Oregon outside of the wild and scenic section.
We stay there for our 4-day Fishing trips in the fall season.