PARADISE LODGE
(541) 842-2822
Business Office
3140 Juanipero Way Ste 201
Medford, OR 97504
Phone
541-842-2822
888-667-6483
info@parasise-lodge.com
www.paradise-lodge.com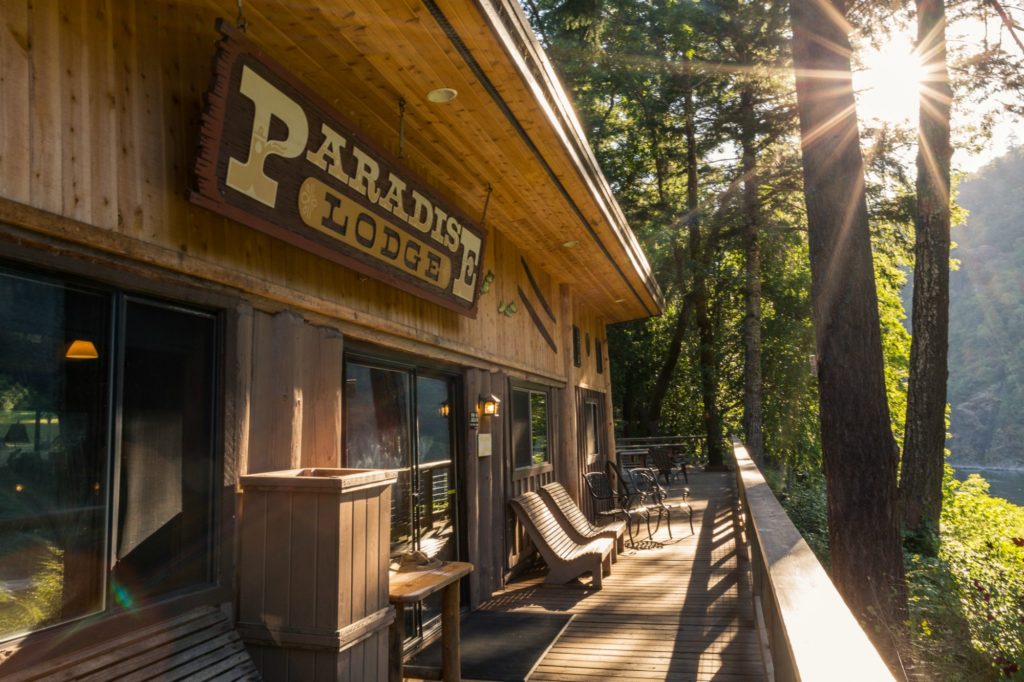 ABOUT
Paradise Lodge is located 52 miles upriver from the Oregon coast, set on the banks of the Rogue River. It is a popular destination for nature lovers, outdoor adventurers, and families. The lodge has 18 rooms located in six different cabins, and each room has 2-4 beds, private full bath, and deck access. A sauna is available upon request. Paradise Lodge also offers guests family-style dining, breakfast, lunch, and dinner. Additional items can be purchased from their general store including local wines, micro-brews, and ice cream.
HISTORY
In 1903, Charlie Pettinger homesteaded an 85-acre parcel on the banks of along, calm stretch of the Rogue River known as Paradise Bar. Here he raised a family of eight children. The location was so remote that very few outsiders ever visited, with the exception of Hathaway Jones, who delivered the mail from Grants Pass to the Coast along what later became known as the Rogue River Trail. As late as 1963, mail was still delivered from Marial to Agness by boat or pack mule, as no roads were ever cut into this pristine wilderness.
In 1959, the main lodge was constructed by Deak and Louise Miller. In the early 70's, when Mr. Miller's health began to fail, he offered the Lodge to Curry County Sheriff Allen Boice. In the 80's, Mr. Boice then sold the Lodge to his son, Court Boice. The Boice family was the third owner of the Paradise Wilderness Lodge parcel since the original homesteaders.
The lodge has been owned by the Schleining family since 2005.